Last week Best's Review published an article about the declining number of homeowners purchasing earthquake insurance citing only 7% of homeowners nationwide down 10% from the prior year.  Not surprisingly, that number spikes after an event as it will no doubt following the 6.1 magnitude Napa earthquake this morning.  It is worth mentioning that earthquake insurance is not inexpensive, and often includes high deductibles of 5%, 10% and 20% of the insured value of the home.  Still, the risk of earthquake, especially in certain areas of the country is high, especially following an event such as the one today.  U.S. Geological Survey scientists forecast a 54 percent chance of a significant aftershock of at least magnitude 5.0 is likely in the next seven days and a 5 percent chance of another quake greater than 6.1. As recently as 2008 the U.S. Geological Survey published a study saying California has a more than 99% chance of having a magnitude 6.7 or larger earthquake within the next 30 years.   If you would like to purchase earthquake insurance in the California area this week you may have to wait. Insurers will probably institute a binding moratorium.
Best's News Service – August 19, 2014 03:49 PM
III: Despite Growing Risks, Consumers Still Not Buying Earthquake Insurance
WASHINGTON – Increasingly dense urban populations in seismically active areas combined with aging buildings that do not meet modern building codes could cause losses to skyrocket following a severe earthquake.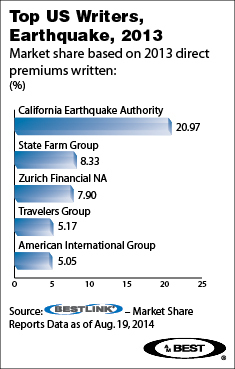 Still, the number of homeowners with earthquake insurance nationwide sits at just 7%, according to a new survey released by the Insurance Information Institute. That figure is down from 10% last year.
"This risk is real and very important. Consumers and small business owners need to take the risk of an earthquake seriously," said Jeanne Salvatore, senior vice president and chief communications officer for the III.
Salvatore said updated maps from the U.S. Geological Survey show 42 states are at risk of suffering an earthquake, with 16 states at high risk.
The risk is especially high on the West Coast, in the intermountain west and the central and eastern United States. The new maps also show the East Coast has the potential for larger and more damaging earthquakes than had been previously considered.
But even with those risks, the take-up rate for earthquake insurance is low.
The III survey found in the West, 10% have earthquake coverage, down from 22% in 2013.
In the Midwest, 7% have coverage, and in the South the proportion of homeowners with earthquake coverage stood firm at 6%, the survey said. Only 2% of homeowners in the Northeast had coverage.
Even in California — where nine of the most-costly earthquakes in the past century occurred — only 12% of residents purchased coverage, III said. This is down from 30% in 1996, two years after the 1994 Northridge, California, earthquake — the most costly in U.S. history, according to III.
"We have seen this pattern before, even in other lines like flood insurance," Salvatore said. "You see a spike in people buying coverage after an event. But as time goes on, they stop renewing their policies."
Salvatore said it is important for the industry to continue making the case to homeowners and small business owners that earthquake coverage can save a lot of heartache in the long run.
She said earthquake insurance provides protection from the shaking and cracking that can destroy buildings and personal possessions. Coverage for other kinds of damage that may result from earthquakes, such as fire and water damage due to burst gas and water pipes, is generally provided by standard homeowners and renters insurance policies. Earthquake coverage is available from private insurance companies.
The cost of earthquake coverage varies depending on the location of the property, how it was built and the terms of the insurance policy. For example, III said a California Earthquake Authority policy for a typical San Francisco home, worth $750,000, could be around $2,000 a year. But a typical home in Sacramento ($300,000) could cost less than $500.
The CEA recently saw a spike in new policyholders buying coverage.
The magnitude 5.1 La Habra earthquake that shook Southern California on March 29 boosted the California Earthquake Authority's policyholder count by more than 8,000 by the end of April, according to Glenn Pomeroy, CEA's chief executive officer.
The CEA had 854,758 policyholders by the end of April — 8,176 higher than the count at the end of March, Pomeroy told Best's News Service. It was the biggest monthly spike the CEA has seen since the magnitude 9.0 Tohoku earthquake hit Japan on March 11, 2011 (Best's News Service, June 2, 2014).
(By Jeff Jeffrey, Washington Bureau manager: jeff.jeffrey@ambest.com)
Some of the Information that appears on this site is produced by Chartwell Insurance Services an independent insurance broker specializing in the personal asset protection of successful individuals. Other content is provided as a resource. The contents of all posts are informational only and Chartwell Insurance Services is not providing legal advice nor policy interpretation. If you have questions please direct them to a representative of Chartwell Insurance Services.